Contest winners spend unforgettable weekend at the 24 Hours of Le Mans
Posted on June 15, 2015
Before last year's Lone Star Le Mans, Circuit of The Americas and the FIA World Endurance Championship held a contest giving two lucky people the chance of a lifetime: A trip to see the 2015 24 Hours of Le Mans live.
Austinites Eugenie Kim and David Seholm were the lucky winners, and they spent this past weekend soaking up the world's most prestigious endurance race.
Check out Eugenie and David's daily reports from Le Mans below. For more information about the upcoming Lone Star Le Mans weekend, planned for Sept. 17-19 at Circuit of The Americas, click here.
Day 1: Anne-Sophie (marketing coordinator with the FIA European Le Mans Series) greeted us at the train station and took us to our hotel. She gave us a bag containing our badges, VIP passes for the "Grande Parade des Pilotes," wristbands for the gridwalk, and a tram ticket to get back and forth between the hotel and race track.
We missed out on cocktails, it seems, but we did make it to our seats for the parade in Place des Jacobins, right next to beautiful Cathedral Saint Julien. The streets got very crowded very quickly and there was an amazing display of cars, bands, dancing groups, and much more!
We did not explore the city as much as we wanted to because of jet lag and general lack of sleep but we were excited for the next day: our first half of the 24 Hours of Le Mans!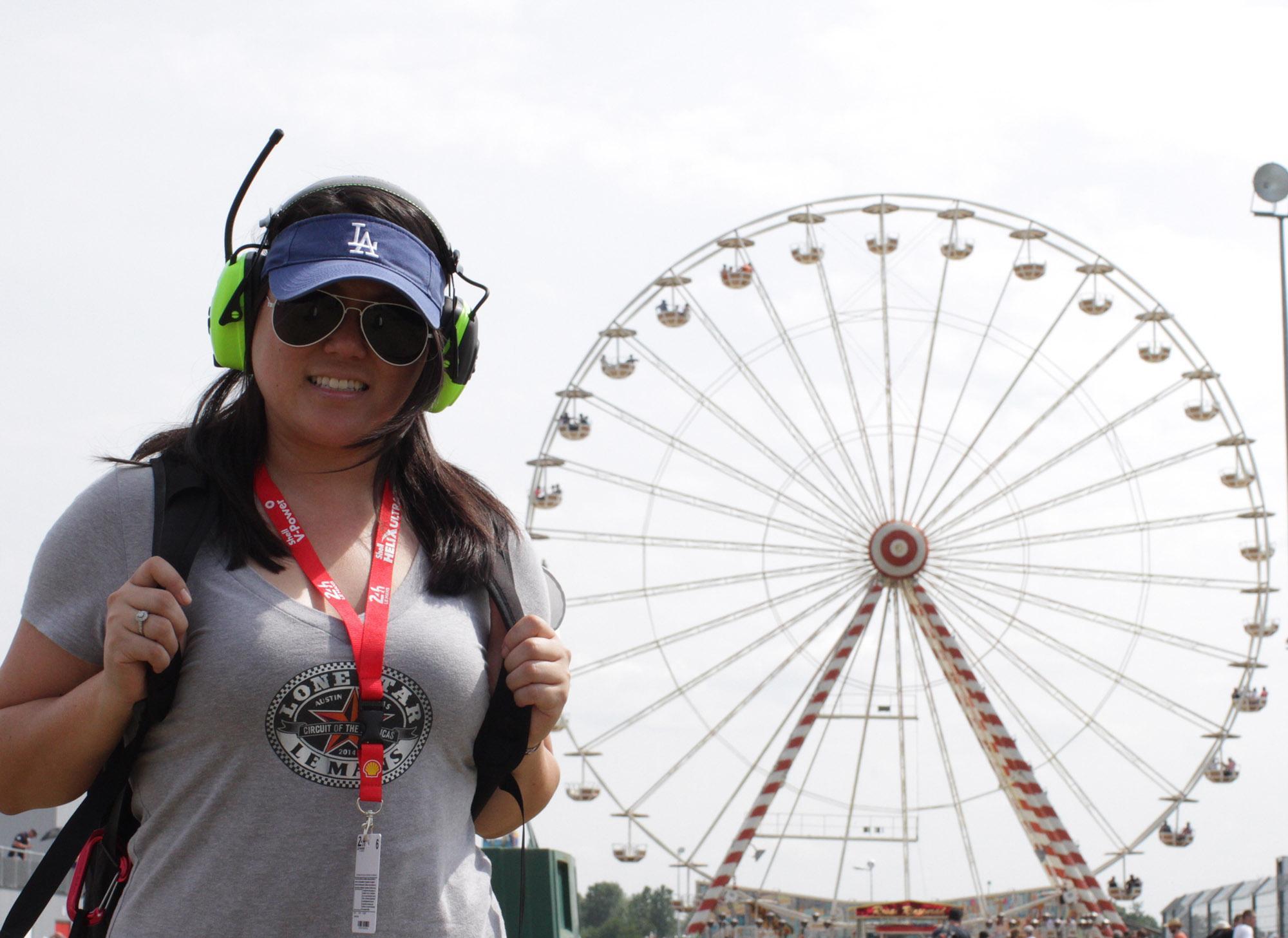 Day 2: We met our host, who then showed us around mainly the paddock area at the race track. She got us in to the pit lane before pretty much anyone else, and before the races started.
Although we didn't have grandstand tickets, we did have access to the grandstands during a classic car race (I think) and an Aston Martin race. During the Gridwalk, we got to see the cars up close and personal, and David was like a kid in the candy store when we got to Toyota!
After the Gridwalk, we had to find places to sit around the track so I was glad we brought our camping chairs!!
David was pretty determined to see every square inch of the track he possibly could so we did a LOT of walking and back-tracking all day, as we were not familiar with the lay of the land — even with a map. We did rest at one point in a bar with a beverage and watched the race on TV for an hour or so. We also stopped by Toyota's space to try out the racing simulator, which we both agree is VERY different from driving a GT-86, i.e., Scion FR-S or Subaru BRZ, which is what David uses as his daily driver.
Before we left to get some rest, we wanted to make sure to go on the Ferris wheel, and on our way back to the tram, I bumped into someone else wearing a Lone Star Le Mans shirt so I had to snap a photo with him!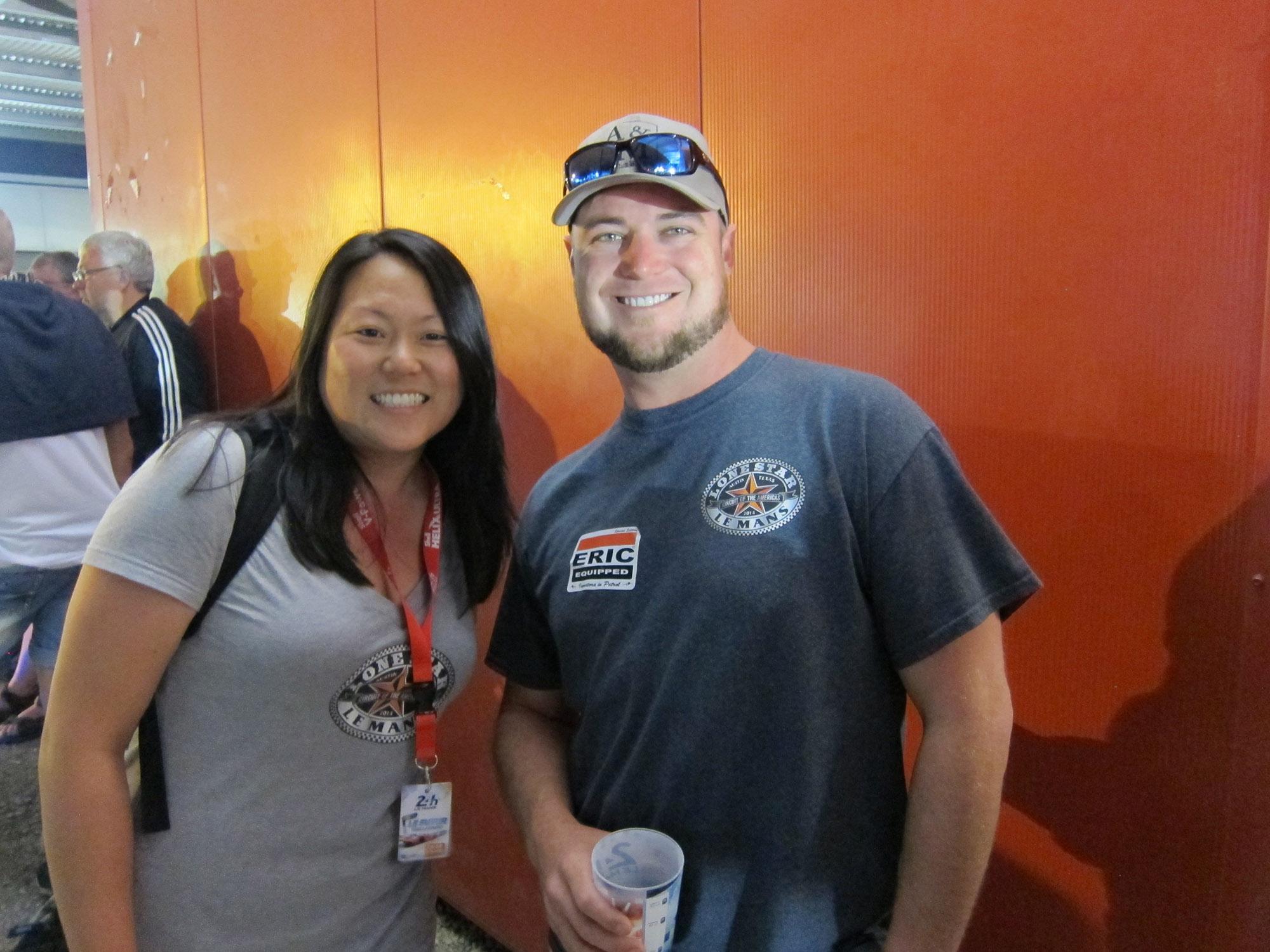 Day 3-4: Considering how little we slept, we woke up much too early in my opinion but much too late in David's. We got to a different part of the track than what we had experienced the previous day, but due to aches and pains resulting from all the walking (while each carrying heavy backpacks), we decided to pretty much stay put until the end of the race.
I lost my Los Angeles Dodgers visor the previous day so I just wore my earmuffs under my other hat, which is probably a great fashion choice.
After Porsche won the race, we followed everyone else on the track up to the winner's podium to celebrate!
Finally, when we left the 24 Hours of Le Mans, we had time to explore the beautiful city, eat some food that didn't involve fries, and marvel in the history that lies in the alleyways before we sadly said goodbye to Le Mans, France.
Gratitude does not even begin to describe what we feel towards Circuit of The Americas and to World Endurance Championship for this inexplicably outrageous trip!
Thank goodness the race didn't overlap with my high school teaching schedule. :)